Working at a YMCA, I work with an older population a lot of the time. This means lots of balance work. Using different exercises, different times, tempos, and so forth in order to prevent adaptation or plateauing. But the thing is, they seek me out because at their age, they have awful balance. However, if you start balance training earlier than later, you will be a happy camper. Proper balance training prevents falls and increases muscles endurance and strength in hips, buttocks, core, and small muscles of the feet. It's time you started a balance routine today.
It doesn't have to be a huge long thing. It could even be one balance exercise before your workout to start out. However, if you have the time, I would suggest doing a 20-minute balance routine 2-3x a week. At least!
Benefits of doing a Balance Training Program:
Better strength in smaller muscles

Stronger core
Reduced chance of falling and injury
Helps improve the connection between brain and muscles
Burns calories as your body struggles to stabilize
Yes, even my younger clients have complained of tiny muscles in the feet, or their hamstrings, or their hips being sore the next day due to efficient balance training. So now it's time to start your own. Like I said earlier, at least do one balance exercise before your workouts, better to do more, if possible. Here is a list of great balance exercises to add to your routine:
Single-Leg Balance. This one is simple. Stand on one foot, posture straight, shoulders back. If you have poor balance or feel unsteady, have a wall nearby to hold onto when needed. 30 seconds each leg.
Single-Leg Balance, Eyes Closed. Same as above, but with the eyes closed. Closing the eyes throws the body off, makes it unsure of where it is. Thus, you get more wobbly. Working on this will improve your proprioception (aka, your body's awareness of where you are even with eyes closed). 30 seconds each leg.
Airplane. Stand on one leg and lean your body forward, spreading your arms like wings of a plane. The goal is to get your body (torso) completely parallel to the ground, including the leg that is off the ground. This one is a killer for the glutes and hamstrings. 30 seconds each leg.
Heel to Toe [Drunk Walk]. Yes, it's what you think it is. Imagine you get pulled over and a cop makes you walk in a straight line. I want your heel to touch your toe every time. Back and forth twice.
Windmill. Similar to the single-leg balance, but instead of keeping your arms still you are going to cycle them like a windmill. 30 seconds each leg.

Supine Leg Raise. For this one you need a foam roller. Place it along your spine, and far up enough that you can rest your head on it. You can touch your hands on the ground, but the goal is to do it with no hands. Slowly raise a leg up and lower it. Then alternate. 12 reps on either leg.
Single-Leg Rotation. Stand on one leg, raise the other so that your thigh is parallel to the ground. You can hold your arms out or put them on your hips. For me, it helps to hold them out. Now, slowly turn either to your left or right (depending what foot you're on). Then come back. This is all on one leg. And you need to do it slowly. Control the muscles. 12 reps on both legs.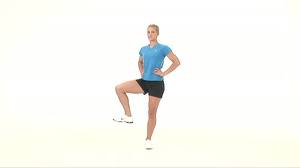 Single-Leg Lift & Chop. Same position as the previous one. But this time I want you to lift your arms up and chop across the body, far down. Look at the picture, but without the medicine ball. It is important to not use your momentum. Use your muscles. Control. 12 reps on both legs. 
Seated to Standing. This one is simple. Without pushing your hands on your knees to get up, stand from a seated position. 12 reps. 

Stability Ball Leg Raise. Most gyms should have them. If you don't have one, and don't go to a gym, get one–it's worth it. There are lots of exercises you can do with it. For this one, preferably with your hands up (you can hold your hips if you need extra stability), slowly raise your leg to full extension. Then slowly lower. Alternate. 12 reps on either side. 
Bosu Ball Stand. This one is simple, but there are many variations. Simply find a bosu ball, and stand upright. You may feel wobbly but attempt to stabilize yourself. If this is too easy, close your eyes. If this is still too easy, march your feet. 30 seconds. 
Remember, folks, you don't have to do all of these. I'm giving you a big list so you can pick and choose, try new ones different days. And if you have poor balance or need more stability, do these with a wall, a rail, or a chair to hold on to. Safety first. Always. You are never to old to start balance training. There are so many benefits. It's not a waste of time and it will save you big time in the future. Try it out.
Cheers!