The Best Fast-Food Burgers: In-N-Out
Do I really need to do a review on this? I don't think so. Most people–even East Coasters–know that this is some of the best fast food you can get.  But who doesn't like a good drool? It's mostly just on the West Coast right now, though it is slowly expanding. There's even one in Texas. The In-N-Out company is picky about meat standards which is why (according to a news source), they haven't landed in Colorado just quite yet. No, this review comes from my sunny home state, California.
In-N-Out beats most fast food places because they do one thing right: they make it fresh. They cut the fries right in front of you and there's no freezing of the food either. The beef is free of any fillers or preservatives and the veggies are fresh. They know quality. It may take longer, or cost more (even though it's not expensive), but they have loyal customers all-over who can't wait to sink their teeth into another burger. They also have incredible milkshakes. We like the black and white (aka chocolate and vanilla). It's the perfect thickness and creamy with real ice cream.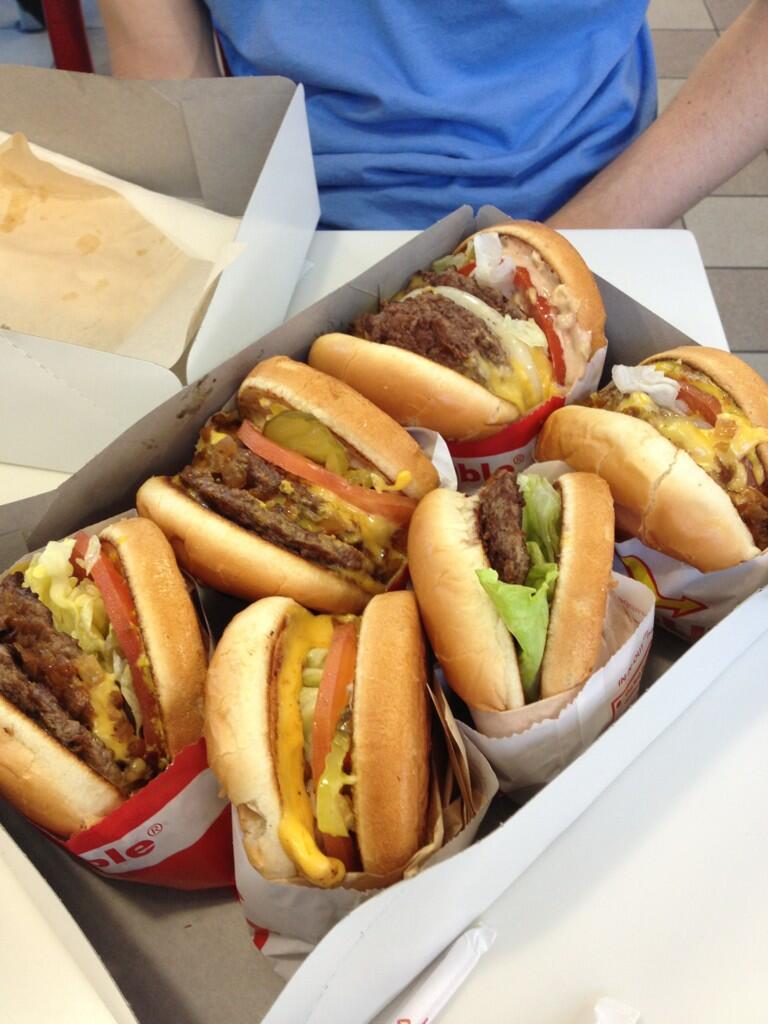 Alana, you're a vegetarian, how can you be talking about In-N-Out burgers! Well, now I will lead you to their not-so-secret Secret Menu. So instead of a burger with meat, I will get the "Grilled Cheese," "animal-style" and, of course, a batch of their delicious fries. I can never finish all the fries, but Hungry and my brother are always there to help. Hungry likes to get the biggest you can get 4×4–4 patties, 4 slices of cheese. Ridiculous, right? Somehow, my brother always fails to tell us the WHOLE secret menu and we end up missing something. But it's okay, Kai, we still love you.
If you're in ANY state that In-N-Out resides in (CA, UT, TX, AZ, NV), you better go get some of their delicious food. And you should probably do a workout before-hand so you can rev your appetite and stay hungry and fit!