How We Are Going to Get Back in Shape (and you can too)!
So after figuring out our job situation, for the most part, we finally decided that it was financially reasonable and responsible to sign up for a gym membership. Ideally, as a personal trainer and a swim instructor, it's a common perk of the job to (depending on where you work) get a free membership. As I work at a small scuba diving and swimming school, there is no fitness facility other than the pool, unlike the YMCA that I worked at before moving. Alana has a free membership to the YMCA that she works at but as it is over fifteen miles from home, it's not worth me getting a membership, so she has that. As I look for another job for some extra hours on the extended weekends, it would be great to find a place with a lap pool where I can start some swim workouts, but until then it's going to have to wait.
Looking around Boulder of all places, and trying to maintain a budget, we passed up on what seemed the logical choice in 24 Hour Fitness and joined the Boulder Rock Club. 24 Hour Fitness is not the kind of gym that I like to work out at because I am against that chain-feeling in general. At this location, I really got that feeling and, unless I am travelling and need a week pass to a place with everything, I don't feel any sense of attachment to a place like that where it seems members are more so a person that is counted as they walk through the door. Again, since we're in Boulder, we wanted to start climbing, but we also wanted a location with a general gym feeling… a locker room, a fitness center, weights, machines, etc. At a reasonable monthly rate for all these services, we took a chance with the BRC. Obviously I sacrificed a pool for the time being seeing as I am still very much so in a second job hunt.
So, having signed up two days ago we made our first trip yesterday. Time to try to get back into shape. Now, to go a little bit more in depth, there were some other factors that made us decide on the BRC. This location was a bit of a premature impulse decision but, in theory, we have no regrets because one of the best ways for individuals like us who are out of shape, but were once in shape not too too long ago, is easing back into things. We were athletes and we have ton of injuries that have healed and some that haven't healed.
Joining a climbing club, and this location particularly, motivates us to do more body weight exercises and start to re-develop what really matters: joint strength and the like. You can have the biggest strongest muscles with amazing muscular endurance, but that doesn't matter if your joints, ligaments, tendons, bones, and everything else supporting and interacting with your muscle systems are not prepared to handle the routines that you put yourself through. I know from experience. So we took yesterday at a snail's pace as an opportunity to ease back in and make sure nothing was acting up before we start to kick it into higher gears.
Here's our workout, then we'll talk some more.
At 8:40 a.m. with an empty stomach I applied some Tiger Balm Muscle Rub to my shoulders, upper back, lower back, and neck.
Then we went through about a 30 minute bouldering session at a relatively light pace, doing novice level routes, and earning massive forearm and hand pumps in the process.
Next we moved to the weight room, which is modest, and went through a short and VERY modest shoulder routine. (I have a superior lesion from anterior to posterior in my left labrum so this is always a cautious day, especially first day back.)
1. Standing Resistance Band Rear Deltoid Flies: 3 sets with a fitting band, 15-20 reps a set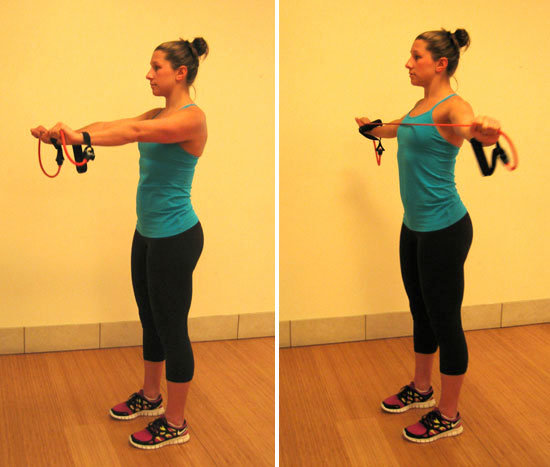 2. Standing Lateral Dumbbell Flies: 3 sets with 15 lb weights, 10-12 reps per set
3. Seated Shoulder Press: 3 sets, ascending weight from 35-45 lbs, 8-12 reps
4. Olympic Bar Shrugs: 3 sets, ascending weight from 95-115 lbs, 16-18 reps
5. Roman Chair Dips: 3 sets, body weight, 6 reps
6. Back Extension Apparatus, 3 sets, body weight, 10 reps
Now obviously, this was more or less our workout. We had to keep it short because we had to get to work and because we wanted to ease back into a fitness routine, and this was very much so easing. We hit most of our major and minor muscle groups in our shoulders, namely neglecting our front delts, scaptions, and rotator cuffs, which I rarely miss. It was not a tough workout because our warm up was not complete so I did not want to risk anything. I always warm up my shoulders before an upper body workout, especially shoulders, in order to prevent injury.
Also, we always try to incorporate some core-specific exercise into every workout, even on isolation days. Here is was the back extensions, because my lower back is very weak right now. The Tiger Balm also acts as a sort of warm up although it's not meant to be a replacement. Why didn't we isolate back, chest, arms, or legs first? Because I need to make sure my shoulder can withstand a workout before moving to another body part. It is extremely difficult to properly workout any body part when something is not working properly. Your muscles work tandem with one another. If something is out of whack, your whole body will be screwed up.  When I further ripped the tear in my labrum, my squat numbers plummeted because I was no longer able to balance the bar with one shoulder. So that is why we started with shoulders.
Now that it more or less passed the test we are prepared to hit the other body parts, and once they are all conditioned well enough we will begin complex circuit training routines. So my path I am hoping to follow, if all resources are in place, and always injury pending:
1. Mix isolated muscle group workouts with light bouldering and climbing
2. Increase weight and rep range within isolated muscle workouts
3. Increase duration of isolated muscle workouts
4. Begin to build cardio vascular capacity through cardio based workouts (run and bike)
5. Add cardio to muscle workouts through super sets
6. Begin full body circuit training 
The ideal workout week: ( I never allow for enough rest)
Isolated muscle workouts every/every other day, i.e. chest and triceps/back and biceps/lower body/shoulders and forearms
Full body circuit training, i.e. Spartacus workout version 1, three times a week
Bouldering and climbing every day in the gym, with these workouts
Cardio-based workouts (bike and run) three times a week
So that might look like: (in no particular order for each day)
– Monday: Chest and triceps in the gym, circuit training session, bouldering
– Tuesday: Back and biceps in the gym, 20 mile stationary bike ride, top-rope
– Wednesday: Lower body in the gym, circuit training session, bouldering
– Thursday: Shoulder and forearms in the gym, 3 mile treadmill run (probably not), top-rope
– Friday: Core in the gym, basketball in the park
– Saturday: back to the start…
I am never good at following those and I kind of ran through that but more or less we will want to start incorporating everything, easing back into our routines while adapting to our new lifestyle and workout resources. In terms of sleep, I try to get seven a night, and I take my vitamins and minerals and try to eat healthy, lots of fish… and dairy. I try to load carbs in the morning and taper off throughout the day, having a protein filled meal at night. I won't include the scientific explanation for that process unless it's requested.
But seriously, feel free to ask any questions about our workout or nutritional plan, and PLEASE feel free to ask for some help finding a way for you to get back into shape. Give us your background, resources, and goals and we can make it work. I love helping people achieve fitness goals.
Email us at alana.ppowell@gmail.com